Luxury 6 Sleeper Chalet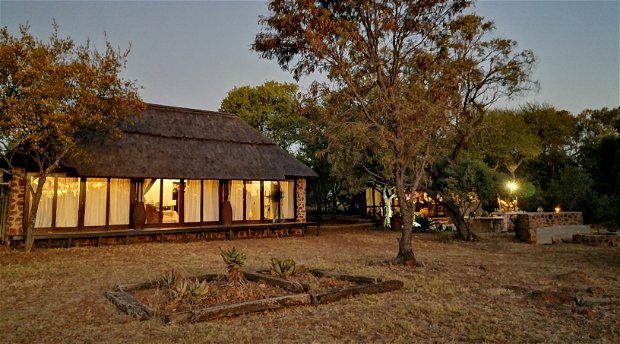 6 Sleeper Self-catering Chalet with Private Boma, Kitchen and Jacuzzi.
3 ensuite bedrooms with a nice view.
6 Sleeper Self-catering Chalet with Private Boma, Kitchen and Jacuzzi.
3 ensuite bedrooms with a nice view.
Rates
Special Rate
22 Jan 2023 - 23 May 2024
R4500.00
Per Unit
Per Night
Booking Terms
Dear Valued Guest,
We are pleased to welcome you to our lovely home at Mangwa Valley Game Lodge & Spa. 
Our intention is to provide each guest with the level of personal service found only in the finest hotels whilst maintaining our prime goal ~ Conservation.
This document sets out those specific rules that are required to create an acceptable code of practice by which all may live together reasonably and harmoniously on Mangwa's premises, and to ensure that the ecosystems they enjoy today are conserved not only to provide a positive ecological impact but also for future generations and visitors to enjoy and benefit from.
Should any question or problem arise, please call the reception and we will be happy to assist you.
At Mangwa Valley; we live by our motto,
"Arrive as a guest, depart as a friend and return as a family member".
MANAGEMENT RULES & MANAGEMENT POLICIES:
In Order to make your reservation & stay as pleasant as possible, the Mangwa Valley Management requests your co-operation in observing the following as an agreement between the guest and Mangwa Valley Game Lodge & Spa,  (hereinafter called 'The Lodge') under which rooms are permitted to be used by the guest(s):-
TARIFF:
The tariff is for the room only; unless stated otherwise in additional arrangements. Applicable Meals and other services are available at extra cost. Guest Registration forms must be signed on arrival.
SETTLEMENT OF BILLS:
Bills must be settled on presentation via the accepted forms of payment, cash, credit card or electronic funds transfer. cheques and bank guaranteed cheques are not accepted. 
CHECK-IN:
Please present your ID card, Passport or Temporary Residence Card upon check-in. By law visitors must present personal documents for lodge records.
Guests may check-in between 14h00 until 18h00 on the day of arrival unless a group reservation has been made in which case guests may check-in from 12h00. A group reservation is a reservation where 10 or more rooms are reserved.
No Access will be allowed to our property after 20:00 for bookings due to strict Game Reserve rules.
DEPARTURE:
Check out time is 10h00. Please inform the reception if you wish to retain your room beyond this time. The extension will be given depending on the availability. If the room is available, a surcharge will be charged. On failure of the guest to vacate the room on expiry or period the management shall have the right to remove the guest and his/her belongings from the room occupied.
NO SMOKING POLICY
All indoor venues, lodge's, chapel, conference facilities, chalets, rooms and luxury tents at the LODGE are non-smoking. Guests wishing to smoke may do so at the cigarette bins or designated smoking areas located throughout the Lodge.
The Lodge reserves the right to charge an additional amount for the cleaning of the room and loss of business for 24 hours after the Guest has departed in order to clear any room of smoke before re-letting to a non-smoking Guest.
This policy is applicable to:
Smoking of Cigarettes,  
Hubbly / Hooka / Vape & E-cigarettes.
FOOD AND BEVERAGES
Only food and beverages (including alcoholic and soft drinks) purchased on the Lodge premises may be consumed at the Lodge / Public Area.
If you have booked a self-catering chalet, you are welcome to utilize personal food and drinks, with the understanding it will not be taken to the Public Area / Restaurant.
LUGGAGE STORAGE:
Subject to availability of the storage space, the guest can store luggage in the luggage room, at the guest's sole risk as to loss or damage from any cause, Luggage may not be stored for a period of over 30 days.
GUEST'S BELONGINGS:
Guests are requested to lock the door of their rooms when going out going to activities or bed. 
The Management will not in any way whatsoever be responsible for any loss / or damage to the Guest's belongings or any other property from either the hotel room or any other part of the hotel for any cause whatsoever including theft of pilferage.
PETS:
Contact management to allow us to make separate arrangements.
HAZARDOUS GOODS:
Bringing goods and/or storing of raw or exposed cinema films, or any other article of a combustible or hazardous nature and/or prohibited goods and/or goods of objectionable nature is prohibited. The Guest shall be solely liable and responsible to the management, its other guests, invitees visitors, agents and staff for all loss financial or otherwise and damage that may be caused by such articles or as a result of the guests' own negligence and non-observance of any / instructions.
Gambling, contraband, prostitution, weapons, explosives, flammable objects, poisons, drugs, animals and pungent food are strictly prohibited on the Lodge premises.
DAMAGE TO PROPERTY:
The guest will be held responsible for any loss or damage to the lodge property caused by themselves, their guests or any person for whom they are responsible.
MANAGEMENT'S RIGHTS:
It is agreed that the guest will conduct him/ herself in a respectable manner and will not cause any nuisance or annoyance within the hotel premise.
The Management has the right to request any guest to vacate his/her room or other areas of the hotel forthwith, Without previous notice and without assigning any reason whatsoever, and the guest shall be bound to vacate when requested to do so. In case of the default, the Management has the right to remove the Guest luggage and belongings from the room occupied by him/her.
BEHAVIOR
Mangwa Valley reserves the right to judge acceptable levels of noise or behavior of the Guest or invitees of the Guest who must take all steps necessary for corrective action as requested by the Hotel. In the event of failure to comply with management's request, the Hotel may terminate a booking or function immediately without being liable for any refund or compensation.
·         No music or loud behavior will be tolerated.
·         Guests, who don't adhere to our rules, will be asked to check out immediately and The Security will be contacted.
LODGE EVENTS
Please take note that at certain times during the year the Lodge may host functions and events which may be considered a disturbance or an intrusion during a Guest's stay. Please contact the Lodge should you require further information.
NO DISCRIMINATION
It is the policy of the Lodge to not discriminate on the grounds of race, color, nationality, sex, marital status, age, ethnic origin or disability and as a responsible host we believe that we have a duty to our guests to protect them from inappropriate behavior. The Guest, his/her employees, guests and sub-contractors engaged by or on behalf of the Guest are expected to adhere to this policy and the Lodge may, without incurring any liability to the Guest, remove any person not adhering to this policy from the Lodge's premises.
RELATION BETWEEN MANAGEMENT AND GUEST:
Nothing herein-above shall continue or be deemed to constitute, or create any tenancy or sub-tenancy, or any other right to interact in the hotel premises or any part of portion thereof, in favor of any Guest or resident or visitor, and the Management shall always be deemed to be in full and absolute possession of the whole of the hotel premises.
LIABILITY
All warranties, conditions and other terms implied by statute or common law are, to the fullest extent permitted by law, excluded from this Agreement.
The Lodge shall have no liability to the Guest and/or the Guest's invitees, visitors, employees, sub-contractors or invitees for any special, indirect, consequential loss or damage unless caused by gross negligence or otherwise provided for in this Agreement. Mangwa's total liability shall, wherever permitted by law, be limited to the value of this Agreement.
Unless the Lodge is liable under clause , the Guest shall indemnify the Lodge against any/all liability and any claims, proceedings or damages resulting or arising from or by the booking, function, the Guest, his/her invitees, visitors or any service provider engaged by the Guest.
Guests are encouraged to lock their motor vehicles and rooms at all times unattended. Guests should take note that parking areas are not supervised and the Lodge does not accept responsibility whatsoever for damage to, or theft from or theft of, motor vehicles parked on the LODGE premises or from rooms in the Lodge.
The Guest is advised to have and is responsible for insurance to cover loss of baggage, personal effects and money.
The Guest shall be responsible for any damage caused to the rooms, furnishings, utensils and equipment therein caused by or attributable to any act, omission, default or neglect of the Guest, his/her invitees, visitors or service providers engaged by the Lodge and will pay to the Hotel on demand the amount required to make good or remedy any such damage. For the purpose of this clause, acts or omissions of the guests, invitees, employees and/or sub-contractors shall be deemed acts of the Guest. FORCE MAJEURE
Mangwa Valley shall not be in breach of this Agreement if it does not provide the services under this Agreement, and it shall be entitled to cancel a booking if it is no longer able to provide the accommodation, due to one or more of the following circumstances:
·         Any part of the Lodge is closed due to fire, alteration or redecoration by order of any public authority or any reason beyond the Lodge's control;
·         There is a failure to supply the Lodge with gas, electricity or water outside of the Lodge control;
·         The Lodge is unable to fulfil the booking as a result of industrial action by its staff or one of its suppliers;
·         Fire, lightning, explosion, riot or civil commotion, malicious damage, storm, tempest, flood, burst pipes, earthquakes, or impact resulting in the Hotel being unable to 5 provide the booked facilities;
·         The Lodge or any part thereof is designated for alternate use.
·         If any one of the events above occurs Mangwa will do its best to avoid any inconvenience and will return any payments made.
PHOTOGRAPHS AND VIDEO'S:
Using photographs and videos taken in the lodge for commercial or public purposes are illegal. Those who do so will be subject to prosecution.
DRONES:
The safety and privacy of our guests, employees and property is of primary concern to Mangwa Valley Game Lodge. The unauthorized use of Unmanned Aerial Systems (UAS), including, but not limited to, drones and radio controlled aircraft and devices, by the public, employees or guests is strictly prohibited at Mangwa Valley Game Lodge.
GENERAL ROAD USE RULES:
The speed limit is 30 km per hour. It is to be understood that this speed limit will not be safe on all roads and in all conditions such as when travelling at night, when on secondary roads, wet roads or roads that are damaged.
Private vehicles may only be used on the main road connecting the main entrance gate of Mangwa Valley Game Lodge and the Reception area / Lodge Area. Self-drives are not permitted on the property of Mangwa Valley Game Lodge.
ANIMALS, BIRDS, REPTILES – FLORA & FAUNA – ECOLOGY:
No person shall, anywhere on Mangwa Valley Game Lodge, destroy, harm or permit to be disturbed or harmed any wild animal, insect, reptile bird or aquatic life.
No one may cause damage to any object of botanical, paleontological, zoological, geological, archaeological, historical, educational or other scientific interest.
No one may cut down, fell, mark, injure, remove, collect or destroy any tree or any other plant or part thereof, whether living or dead.
No one may remove seeds or flowers or any part from any plant.
No one may bring on to or have in his/her possession while anywhere on Mangwa Valley Game Lodge, an unsealed firearm, explosive, trap, snare, poison, crossbow, bow or catapult.
No one may feed or attempt to feed, or leave food or drink for such a purpose in any place accessible to wild animals. Animals finding discarded food readily acquire the taste and later become a pest.
All wildlife at Mangwa Valley Game Lodge should be considered to be wild despite the fact that certain animals may appear to be tame. These apparently tame animals have simply become used to humans and are unpredictable and may attack if approached.
Be aware and treat all animals with respect and under no circumstances approach any animal irrespective of its size.